Web3Twin for
Email
Email that does more
Email is one of the oldest applications on the internet. It is fast, reliable and cheap. It is also the only digital transaction layer for business that is globally available and not centrally controlled. Web3Twin uses Web3 technologies to create digital twins that protect the value of your email while making it far more capable.
Web3 digital twins generated
Email that is verifiable and tamper-proof, even when printed or shared over different channels
Archival and dispute resolution, globally available, without need for intermediaries
Instantly available without installation with any mail client and mobile phone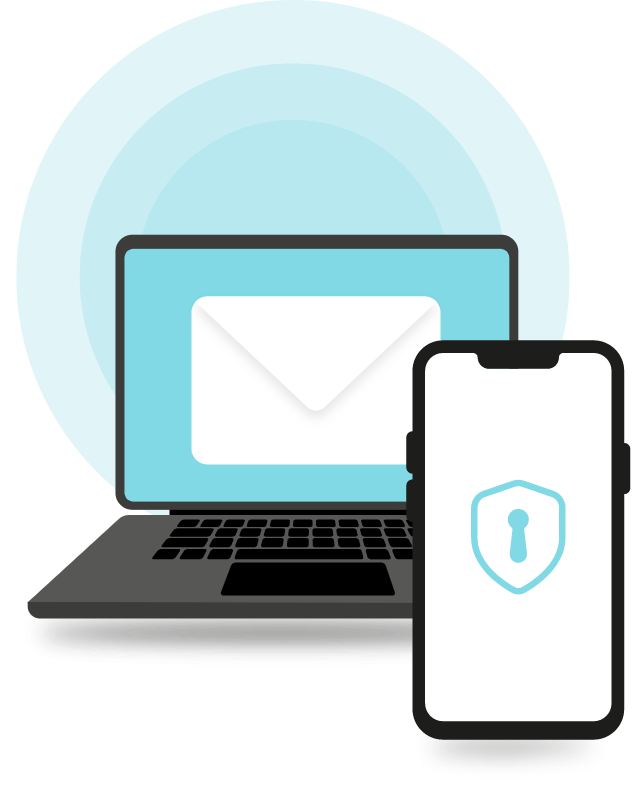 Secure and tamper-proof delivery
Powered by Vereign SEAL, email twins utilize decentralized Web3 technologies such as IPFS and blockchain, protecting the integrity of the email content and all attachments. The digital twin acts as an immutable and verifiable record of the communication.
Global accessibility
Unlike traditional registered mail, which may be limited by geographic boundaries or international shipping restrictions, digital twins can be accessed and received globally. Users can send and receive registered emails to and from any part of the world with ease, breaking down barriers and facilitating efficient communication across borders.
Preservation of records
Thanks to Web3 twins, users have a reliable and secure method of preserving important communication records. The digital twin serves as an unalterable and time-stamped representation of the email, providing individuals with a trustworthy source for future reference, legal purposes, or compliance requirements.
Lightweight digital signatures
Web3 digital twins provide a lightweight record of intent and identification, similar to traditional Advanced Electronic Signatures (AES) and can be used in their stead. This way agreement can be captured efficiently, in an informal way, but with the same level of reliability of most electronically signed documents.
Enhanced convenience
Web3 digital twins can fully replace your traditional registered mail by something better. Instead of having to physically visit a post office or mailing center, you can access your registered mail seamlessly from your digital devices.
Saving time, money, and the environment
Save the time and cost associated with traditional registered mail. Web3 digital twins eliminate the need for printing, physical delivery, and postage fees, streamlining the entire experience and making it more efficient.
Easier dispute resolution
In cases where disputes or conflicts arise regarding the content or delivery of registered emails, digital twins can simplify the resolution process. The availability of verifiable records, timestamps, and proof of delivery can help resolve disputes efficiently and with greater accuracy.
Data Ownership and Control
Where traditional solutions place absolute trust in the intermediary to store copies of the data and reproduce the accurately, Vereign SEAL uses Web3 technologies to allow each party with access to the digital twin to store their own copy while preserving the ability to prove authenticity and integrity. This makes it the first solution to grant true data ownership in combination with verifiable records for email.
Swarm resilience
Denial of Service attacks thrive in traditional environments with a limited number of targets. Even when built for scale, traditional Web2.0 environments will have down time due to unforseen interactions and human mistakes. The distributed web on the other hand offers the protection of the swarm, each Web3 digital twin remains independently available over distributed nodes.
There is no need to install anything, and digital twins are fully compatible with all email clients. So you can use it for communication with each of the 4.37 billion global users of email, today.
How to use
Web3Twin
for Email
The fastest
You can create digital twins for email simply by sending a copy of your email to seal@vereign.com, where our Vereign SEAL engine will produce the Web3 twin, and send the verifiable access receipt to all participants.
The most convenient
Web3 digital twins generated on your device at the touch of a button. Users of Microsoft 365 or Outlook can install the "Vereign SEAL" add-in for Outlook directly from the Microsoft AppSource. Gmail users can install the "Vereign SEAL" plugin for Google Chrome and compatible browsers.
Frequently Asked Questions
Who can access the digital twin?
﹀
How can I store my own copy of the digital twin?
﹀
Can anyone get the data out of IPFS?
﹀
Do you write my data to the blockchain?
﹀
How does the verification app work?
﹀
How is the web verification app delivered to my device?
﹀
Do you see when I access my digital seal?
﹀
How can I know that the web verification app does what you claim and has not been tampered with?
﹀
Can I execute the web verification app locally?
﹀
How does the Vereign SEAL engine generate a digital twin?
﹀