›
Organizational Credential Manager
An Organizational Credential Manager is a software component that gives an Organization the capability to fully participate in the federated internet of Self Sovereign Identity.
It connects to the directory service, such as Microsoft Active directory, and depending on the Organizations' preferences it is deployed on-premise, in the cloud, or utilised in a SaaS model.
Download product sheet
Vereign OCM provides the required functionality for the Issuer and Verifier in an SSI ecosystem and also allows your organization to act as the Holder of its own verifiable credentials.
Vereign OCM is used when an organization wants the native capability to
receive and process verifiable credentials issued elsewhere, such as governmental electronic IDs, company and employee certificates, university diplomas or other documents issued as verifiable credentials by private or public bodies;
implement audit trails, data spaces, zero trust networks or secure sign-in and automated data exchange in for IoT networks, employees, partners or customers;
issue verifiable credentials for its products, employees or partners, such as existing ISO certifications;
bridge and leverage legacy PKI or certificates into the growing SSI ecosystem around eIDAS version 2.0.
Vereign OCM is available as fully supported product including guaranteed security updates, assured response and resolution times.
Vereign also offers the whole range of professional services, including integration, consultancy, development, and training.
Contact us to let us know how our SSI experts can support you.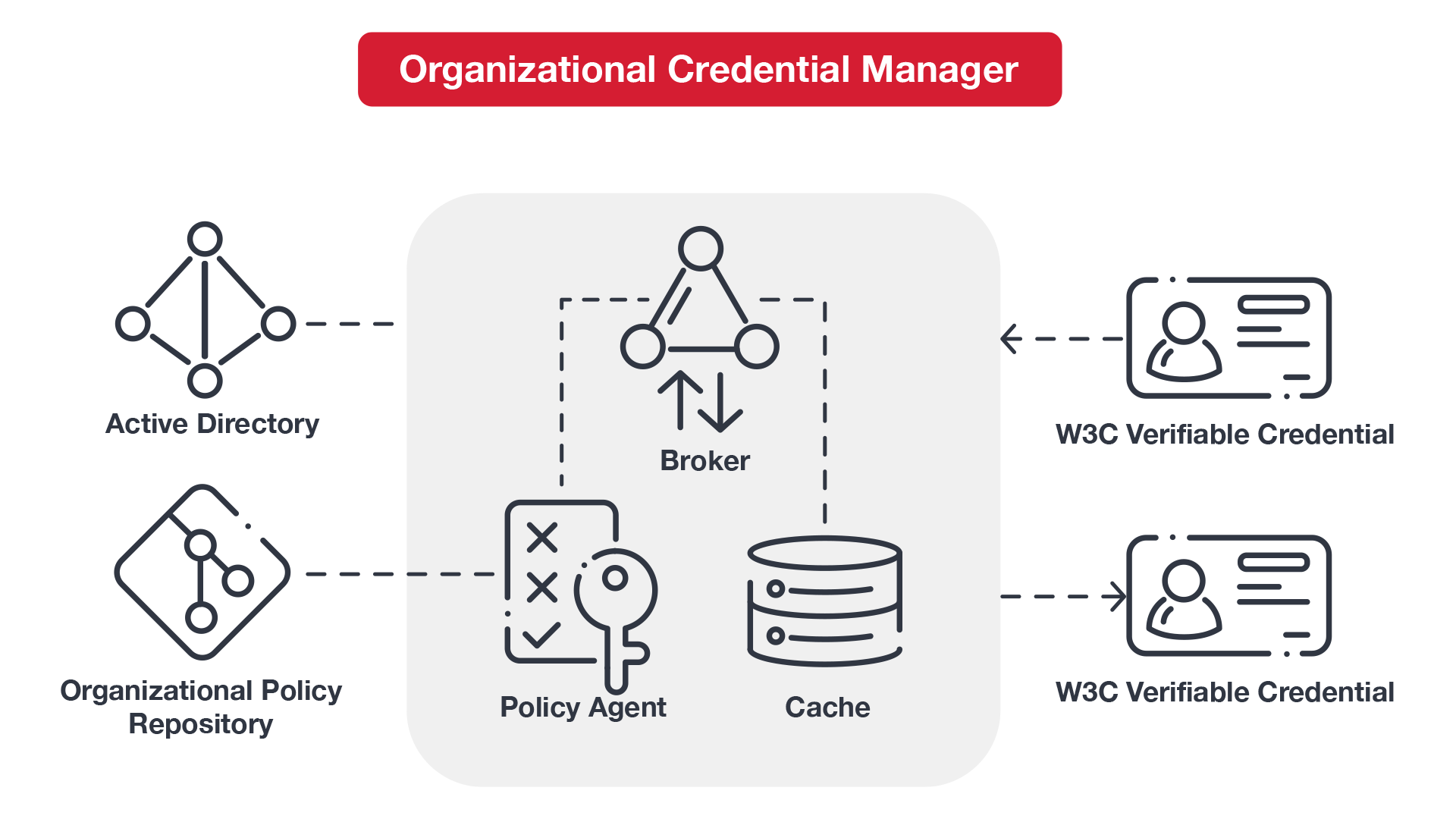 The world's first general purpose OCM with unique features:
Integrates into existing infrastructure
Simply connects to existing directory service
Available on premise, in the cloud, or as SaaS
Ledger agnostic
Universal DID resolver for any ledger
Issue credentials on various ledgers
Policy engine
Access, workflow and issuance programming in REGO
Secure, versioned organizational policy repository
Application Programming Interface (API)
Integrate into any system or use case
Automated system and IoT support
Caching
Fast and secure in-memory cache for efficient operations
Sustainable
Compatible with all relevant standards by W3C and Decentralized Identity Foundation (DIF)
Fully Open Source, no hidden dependencies
Compliant
Fully compliant with GDPR/data protection requirements
Developed with privacy and security by design
The OCM has been developed under the guidance of Vereign for the European GAIA-X consortium using the standards established in the W3C and Decentralised Identity Foundation (DIF) that are also the basis for electronic identities in countries like Switzerland and that have been defined in the EU eIDAS revision 2.0, making them compliant and legally binding in Europe and rest of the world.
Who needs an Organizational Credential Manager?
Any Organization that wants to make use of Verifiable Credentials will need an OCM component. Verifiable Credentials are the modern way of sharing personal and identity information in a verified, secure, and privacy protecting approach that cna be fully automated and in which all data is verified by third party.
Several countries are (re-)building their eID systems on this paradigm, training, education and certification providers are considering to move their diplomas to Verifiable Credentials, and legislation in privacy oriented regions in increasingly moving in this direction.
SSI is the first internet native identity layer. Any organization that does not want to find itself stuck with the equivalent of the fax in the coming years should start building up its capabilities today.
Typical installation scenarios for the OCM include
Ability to interact with modern eID systems, i.e. for digital onboarding
Improve online interactions and services with automated, verified data exchange
Preparing you Organization for Zero Trust
Qualified of Advanced Electronic Signatures (QES/AES) without need for a central intermediary
Issuance of Organizational diplomas or certificates, including university degrees that cannot be counterfeited
Managing security in IOT or edge computing use cases
Book a demo to see how Vereign can take your digital interactions to a whole new level*
Request a Demo
*Don't worry, there's no obligation, we'd just like to show you how Vereign can work for you